"The Royal Exchange" bar y restaurante en Fortnum & Mason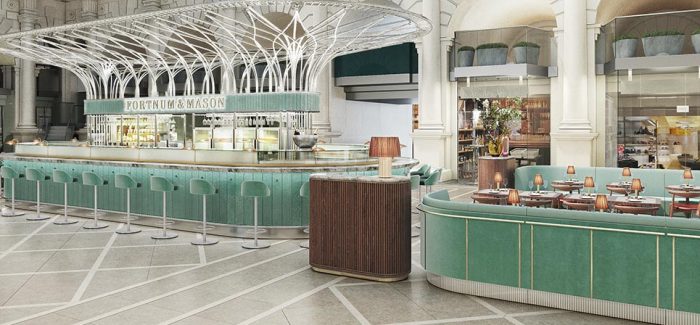 Fortnum & Mason abre una nueva tienda, bar y restaurante en The Royal Exchange
Fortnum & Mason ha abierto una nueva tienda, bar y restaurante en The Royal Exchange en Londres.
Ubicado en el patio interno de The Royal Exchange, The Fortnum's Bar & Restaurant ha transformado el emblemático punto de referencia de Londres en un destino gastronómico contemporáneo. El bar es respetuoso con la arquitectura neoclásica que lo rodea mientras crea una sensación de intimidad.
Diseñado por Universal Design Studio, el bar central tiene capacidad para 90 comensales y ofrece una versión moderna de la estética de la firma Fortnum & Mason, con una paleta de materiales texturados de níquel, mármol, cuero Eau de Nil y cerámicas esmaltadas para complementar los tonos del Material predominante del edificio – Piedra de Portland. La celosía de la barra con dosel se inspira en la colección de cubiertos ingleses de Fortnum, el edificio original de Piccadilly y las imágenes de los archivos de 300 años de la compañía.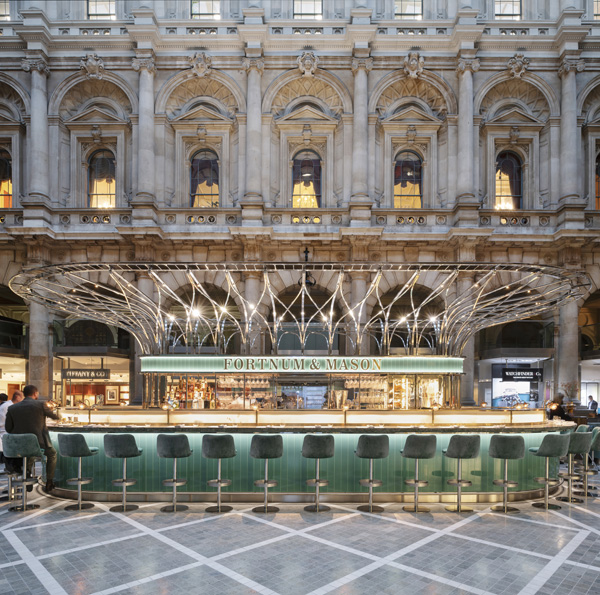 Reflejando la herencia de la marca británica, todos los detalles de metal y vidrio soplado dentro del mostrador de la isla se realizan en el sureste de Inglaterra, mientras que los banquetes de cuero a medida incorporan la paleta de colores del minorista icónico.
La tienda de 213 metros cuadrados está escondida dentro de los históricos arcos internos y cuenta con lámparas de araña hechas a medida por Studio Roso, elaboradas a partir de miles de «conchas» de plata tomadas de las cucharillas Fortnum & Mason. Luces y jarrones personalizados de vidrio soplado realizados por Michael Ruh Studio, en colaboración con Universal, decoran el bar y el restaurante en todo.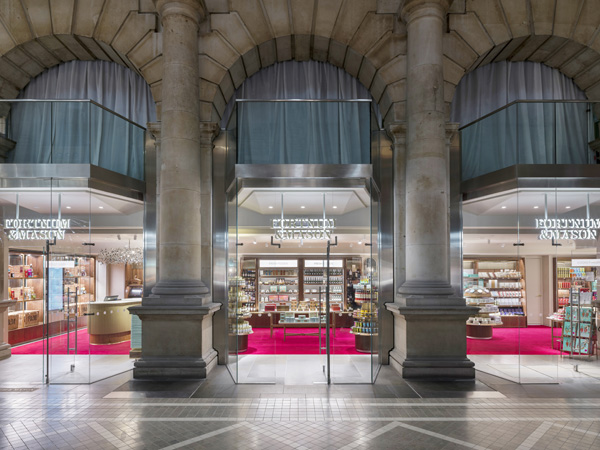 «Estamos orgullosos de reunir a Fortnum & Mason y The Royal Exchange, dos íconos de Londres, con tanta armonía. Las proporciones, la iluminación y la materialidad de The Fortnum's bar han vuelto a cobrar vida al Trium, ofreciendo a los londinenses un nuevo restaurante de destino en un edificio histórico, con un elegante diseño de tienda que agrega un refinamiento moderno tanto al entorno emblemático como a Fortnum & Mason Food Hall. «, dice Hannah Carter Owers, codirectora de Universal Design Studio.