CHELSEA IN BLOOM 2019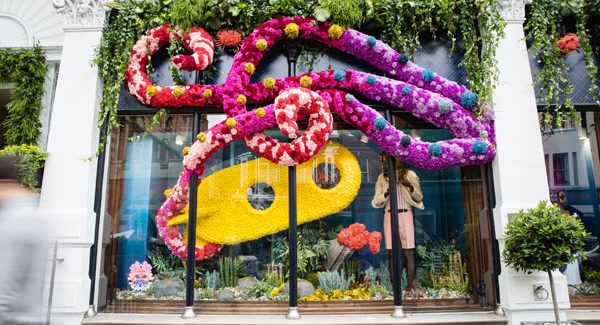 Cadogan anuncia a los ganadores de Chelsea in Bloom 2019
Cadogan, en asociación con la Royal Horticultural Society, ha anunciado los ganadores de este año de Chelsea in Bloom.
Chelsea in Bloom, el festival de flores gratuito más grande de Londres, está en pleno apogeo y las calles han cobrado vida con estas coloridas creaciones.
Más de 90 tiendas, restaurantes y hoteles participaron en el evento de este año, desde Sloane Street, Pavilion Road y Duke of York Square hasta, por primer año, el emblemático King´s Road, que celebró su relanzamiento en 2019.
Cada participante interpretó el tema de Under the Sea a su manera, los ganadores de este año son:
Best Floral Display: Hackett
Highly Commended: Kiki McDonough
Highly Commended: Smythson
Innovation Award: Marshall Wace
La votación para el Campeón es decidida por el público.
Sloane Square volverá a ser el hogar de un Punto de información (para reservar un paseo en rickshaw o un recorrido a pie por los puntos destacados de la zona), el área de bar emergente y la instalación floral central: un arrecife de coral con un delfín gigante hecho de follaje mixto, y un pulpo con tentáculos de cabezas de celosia, creado por los floristas All For Love London.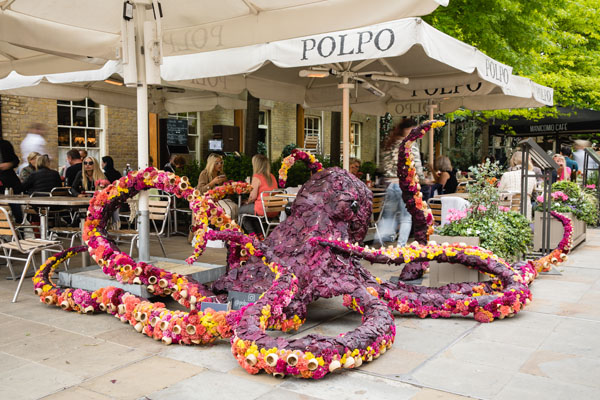 Otra instalación floral a gran escala que conforma el espectáculo es una orca gigante de 4 m situada en Pavilion Road, creada a partir de hojas tropicales que saltan de una base de matices mixtos de delfinios, hortensias y gipsófila espumosa.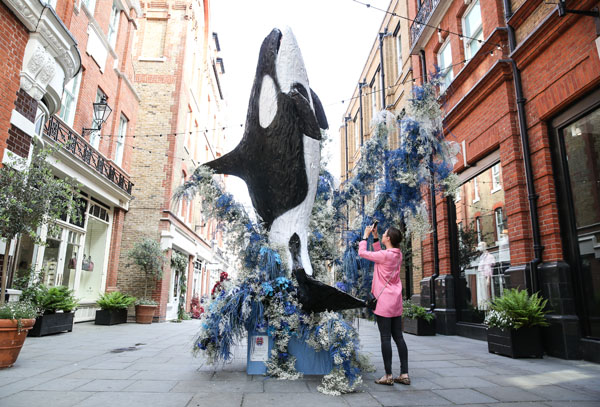 Mientras tanto, en la plaza Duque de York, los floristas Maison de Fleurs han creado una tortuga gigante compuesta de una mezcla de plantas, suculentas, musgos y flores de colores brillantes.
Por primera vez, Cadogan está trabajando junto con la ONG Plastic Oceans UK, cuya visión es poner fin a la contaminación plástica. Para aquellos que deseen participar, un punto de donativos estará in situ en Sloane Square, con una instalación interactiva para recaudar fondos y crear conciencia.
Al final de la semana, las flores y las plantas se reutilizarán y se reubicarán cuando sea posible por la organización benéfica Floral Angels.