Keep Chic and be woman by BIGPRINTS
BIGPRINTS participa en la producción del evento Keep Chic and be woman por segundo año consecutivo
El cuento de Cenicienta está una vez más de moda, ahora les ha tocado el turno a Centros Comerciales de España y Portugal.
Keep Chic and be woman , es un evento en el que todas las participantes que lo deseen podrán sentarse en un gran sillón de la realeza, probarse un zapato de la mano de un príncipe azul y si tienen suerte y es de su número se lo llevarán. Esto junto con otras acciones componen la campaña de publicidad  Keep Chic and be woman que recorrerá distintos centros comerciales de la península.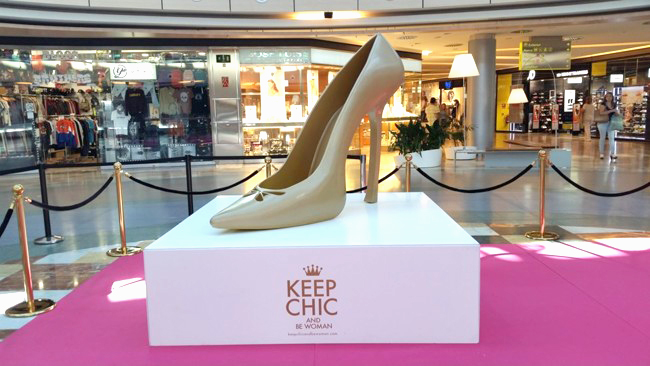 El Centro Comercial La Gavia en Madrid dará el pistoletazo de salida a este evento en el que se podrá participar desde el 21 hasta el 25 de septiembre, después el calendario marca algunos centros más en España antes de pasar al país vecino, Portugal, donde finalizará el 6 de noviembre.
BIGPRINTS ha colaborado en la fabricación de los elementos que forman el stand Keep Chic and be woman.
Un zapato corpóreo en fibra de vidrio de 1,70 x 2 m simulando el zapato de Cenicienta pero de color dorado,  una tarima de madera que hace de pedestal, un zapatero gigante con espacio para las cincuenta cajas en las que se guardan los zapatos fabricado en madera lacada con adornos en pintura dorada y un tótem también de madera lacada para alojamiento de una pantalla encastrada y decorado con vinilo.
Todo el mobiliario ha sido fabricado en madera y producido por BIGPRINTS al igual que el zapato corpóreo de gran tamaño, punto fuerte del decorado.
Ser princesa por un día es posible, tan sólo hay que acudir a los centros comerciales indicados en la siguiente web Keep Chic and be woman.
#produccionevento, #mobiliariomadera, #maderalacada, #fabricacionstand #zapatocorporeo, @keepchicandbewoman.com, @BigPrints_es